Syncing my Mailing Schedule to my Google Calendar
How will I know when my order is delivered to the Post Office?
Notifications are sent to your YLHQ account after your order is delivered to the post office.
Notifications are sent on the same day or the following morning.
You will receive a tracking link to track the progress of your order.
Do you use live stamps on the mail pieces?
YLHQ uses a live stamp on all letter orders (excluding Full View Envelope orders).
Live stamps are not used on postcard orders.
How do I read my tracking link?
The video below will show you how to read your tracking link.
https://screencast-o-matic.com/watch/cYjOoPmAHC
The mailing address on my proof is not on my list, what happened?
Not all three of my sample addresses match my list. Why is this? During proof processing, we run your list through the NCOA database. It will update the mailing address of any prospect who has moved and filled a change of address with the Post office.
I don't want your system to remove duplicates or non deliverable records from my list.
If you do not want for our system to pre-scrub your list please select the "Turn off upload tool" checkbox as seen on the image below. Please keep in mind that this tool also removed the non removal scrubber. It is an all in one tool and the checkbox turns off both features.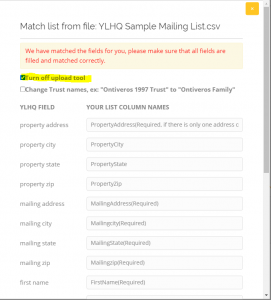 I can't pay for my list on www.ListSource.com
YLHQ has absolutely no control over payments processed over the ListSource payment portal. We can't block or process transactions. If you are experiencing issues with the payment on ListSource you want to ensure that your payment information (Billing Address, Card number, ex. date, security code) are correct. If so, you want to verify with your bank to ensure that they are not blocking the transaction. Please keep in mind that all ListSource accounts have a daily card spending limit of $1,500.00/day. Additional transactions will be automatically blocked.
Can you mail me all the postcards so I can send them out myself?
YLHQ is a full-service mail house and sends mail out directly to prospects from its local bulk post office. We are unable to send the mail directly to you for you to re distributed. This includes blank templates.
Can I prepay for mailer credits?
No, you must submit your entire list at the time of purchase.
What are YLHQ hours of operations?
YLHQ office hours are Monday – Friday from 8 am to 3:30 pm Pacific Time.
YLHQ observes all Federal holidays. If a mail day lands on a federal holiday, the mail will be sent out the next business day.
What should I look for when reviewing my proof?
– Content; Spelling, grammar, message
– Data accuracy; Name, Phone Number, Return Address
– Variable data placement; Ensure that postcards are being sent to the mailing address with a reference to the property address. Open your mailing list and look up the sample addresses on the proof to confirm accuracy.
Can I use two different templates in one order?
One template per order, if you require a second template you will need to place a separate order.
How do I apply my store credit?
Your store credit can be found in your YLHQ account page.
Simply copy your coupon code prior to making your purchase, paste the coupon code during check out.
I signed up for a List & Leads Membership, what happens next?
After you purchase the list and leads membership, a member of our team will create a Listsource account with the email address you provided.
Once the account is created you will receive a separate email from Corelogic providing your username and password to www.Listsource.com.
You cannot access Listsource discounted leads through your YLHQ account, you must log in to www.Listsource.com directly.
Please note we are closed on weekends all orders placed during the weekend will be processed Monday mornings.
How long does it take to mail after my order is placed? When should I expect a response?
You will receive your order proof within 24 business hours of placing your order. YLHQ requires your written approval to move forward with the order. Once your approval has been received, the mail will be delivered to the post office in 1-3 business days.
Post office delivery to mailboxes varies based on postage.
First Class: 1-3 days
Standard Mail: 8-15 days
What is the difference between first class mail and standard mail?
First class mail:
-Takes 1-3 days for the post office to deliver to mail box.
-First class mail is forward to recipient, if there has been a recent change of address.
-Return mail will be sent back to the return address on mail piece.
Standard mail:
-Takes 8 to 21 days for the post office to deliver to mail box.
-There is no return mail for standard mail.
What does "NCOA" stand for and what does it do?
NCOA stands for National Change of Address and it is a tool developed by the post office to help ensure that mailing addresses are up to date. When mailing items with personalized information, NCOA is absolutely crucial and required by the post office to making sure you can accurately address your mail to THE intended recipient.
What is variable data? How can I use this?
Variable data is any field of information on your list that can be personalized on each individual mail piece. This can include all your columns or only the columns you require placed on your mail piece.
What is the turnaround time?
In most cases an order is processed, printed, and dropped off at the post office within 3-4 business days!
Removing Items from Cart
Items can be removed from your cart by clicking on the Cart tab.
You can find the Cart tab at the bottom section of your YLHQ  page under the Store section.
Creating and Managing a Support Ticket
If you have an issue with your YLHQ mail order, YLHQ Organizer, Return Mail service, List & Leads membership, or YLHQ account that can't be solved using our website resources pages, please create a support ticket so that one of our agents can assist you.
Creating a ticket is beneficial to both parties as they allow us to document errors and make sure no bugs or issues go unnoticed. Helping us create a more seamless and enjoyable customer experience. They help us to get you to the right service agent the first time; not you bounce around from agent to agent.
Describe your issue to the best of your ability. We encourage you to use add a video or screen recording of the issue you are experiencing. You can also attach files involved with the issues. The more information the faster we can find a solution.
One of our agents will reach out to you with further questions or a resolution to your ticket.
If you need to review, edit, or close a support ticket. You can do so from your Ticket panel in your account dashboard.
Managing my YLHQ Memberships
If you need to cancel, upgrade or downgrade one of your Yellow Letter memberships, please open a support ticket in your account dashboard with your request.
Please provide the account's email and billing addresses First and Last Name.
Please review our membership cancellation policy.
Managing my Yellow Letter HQ account
Your account details can be managed from the "Account Details" tab in your Account Dashboard.
You can edit your Name, Email, Phone Number, and Password.
This page also allows you to add a secondary contact email to your account that receives order notifications, invoices, processed payment notifications, proofs, and promotions.
You can view a demonstrative video on how to add a secondary email here.
Managing my Payment Methods
You can store payment information for quick checkout and for your YLHQ subscriptions.
You can add multiple payment methods including Credit Card and ACH.
You can view, add, remove, or edit payment methods in the "Payment Methods" tab in your Account Dashboard.
Managing my Billing Addresses
If you need to save one or multiple billing addresses for different payment methods in your account, you can do so in the "Address" tab in your account dashboard.