The

Upload Tool

Has Saved
0
Filtered out undeliverable records since 2020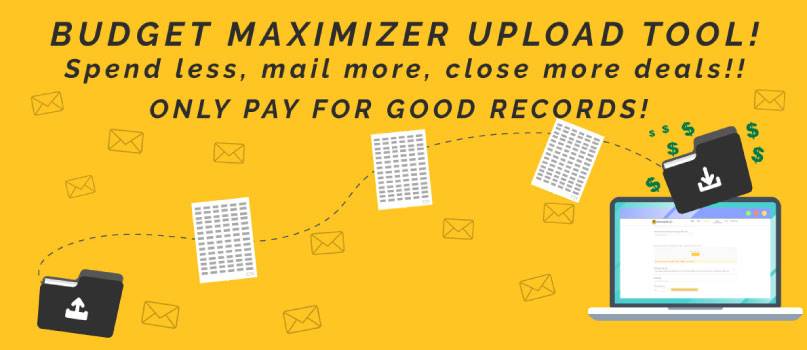 Customize

Your Marketing Materials
Real Estate Investors and Mortgage Brokers have specific marketing needs, and we help you meet them. From handwritten to professional, from postcards to mailing lists, we can get you what you need - fast.
YLHQ Skiptracing
YLHQ List Organizer
YLHQ Returned Mail
YLHQ List and Leads
We Make Direct Mail

Easy & Efficient
Our process is simple, quick, and priced so it won't break the bank.
Competitive Prices
Yellow Letter HQ is one of the most competitively priced real estate direct mail companies in the industry.
Quick Turnaround
Waiting two weeks before your order is mailed is never fun. Our main goal is a 2-3 day turn around!
Clear Communication
Always will know exactly where your mail order is in the process without having to wonder when it was mailed.
"Hand's down the BEST direct mail service company I have ever used! Todd and the crew are top notch in their customer service and their prices are the lowest I've ever seen! The product is awesome and the turn times are quick! It's a No-Brainer!"
~Doug
"I had an awesome response from their yellow letters. It pulled way better than post cards and the price was super competitive. If your sending Post cards or Yellow letters, I would highly recommend having Yellow Letter HQ do it. Not only did it free up my time but the price was cheaper than what was able to get it done myself for."
~Danny
"I've used Yellow Letters HQ since December 2015 and have nothing but GREAT things to say about them! They get my mail out on time, bring me good response rates, and take care of me on every single order I wouldn't recommend any other mail company!!!!"
~Jaelin
"I've used this company several times in the past and they offer great customization letters and product and it was at a great price. I couldn't find anyone with better pricing. Definitely recommend their services."
~Haim
"I received seven deals from my last check letter campaign. My customers mentioned seeing the check through the windowed envelope really encouraged them to open it.
Looking to add a follow-up campaign as soon as possible. Thank you"
~Josh
"A client who turn into a deal mentioned he only called me because of the actual handwritten note he received in the mail, he felt it was very personable and showed effort."
~Joseph
"The check letter did extremely well for us. We received lots of phone calls and closed on multiple deals with this one campaign. It went so well that we're placing another order with the same letter, and sending double the amount of pieces."
~Randy
"Our first campaign went great, we were able to land 2 deals, helped us reach our marketing goals"
~Diego
"I've never lost money in direct mail using YLHQ."
~Luis
"First mailing campaign with Yellow Letter HQ, paid $75.19 for my order, and now I'm closing a 10K profit deal!"
~Corey W.
"We've been using your letters and since we switched to the Real Ballpoint pen envelopes, it has really helped increase our response rates!"
~Aileen
"Great service and support with excellent results!"
~Damola Olaleye
"These guys are awesome! The pricing is extremely competitive and very fair bulk discounts. They have tons of amazing options that streamline the mailing and backend organization process, seamlessly. Not to mention, they will call you directly to discuss discrepancies, and work out solutions on the spot to ensure that the quality of your mailer is 100%, desk to door!"
~Tyler Brissenden
Create Your Campaign Today
Yellow Letter HQ is the easiest way to create your direct mail marketing campaign.